Internal Contact Inline Editing is the name of our feature that combines the ability for users to edit internal contact information directly from recovery plans and assign employees to recovery locations. This article will walk you through setting it up.
Internal Contact Inline Editing requires the settings to be turned on through the Catalyst Settings and all users that will be editing contacts to have a security role that allows them to have editing permission for internal contacts. Users with the User Role will not be able to update internal contact information. For those users, you will have to create a custom role, directions are available below.
Turning On Internal Contact Inline Editing
Go to Administration => Manage My Account => Catalyst Settings
Scroll down the settings list to the Internal Contact Inline Edit Section

Place a checkmark next to each Internal Contact field users can edit through the team contact document section
Once settings are ready scroll down and click Save Changes
Creating Custom Security Role
There are two options with the custom user role. You can create a custom role specifically to allow certain users edit permission for internal contacts and stack the two permissions for those users, or you can create a custom role that has the same permissions as the User role with the added Internal Contacts Update permission and just use that role as your standard user role.
To create the role, go to the user screen bylol clicking Administration -> Users. From there, you will see a blue button in the upper right hand corner for Roles. Click the Roles button.

Click the New Role button in the upper right hand corner of the role page. This will bring up the New Security Role page. Here, you'll need to give the role a title.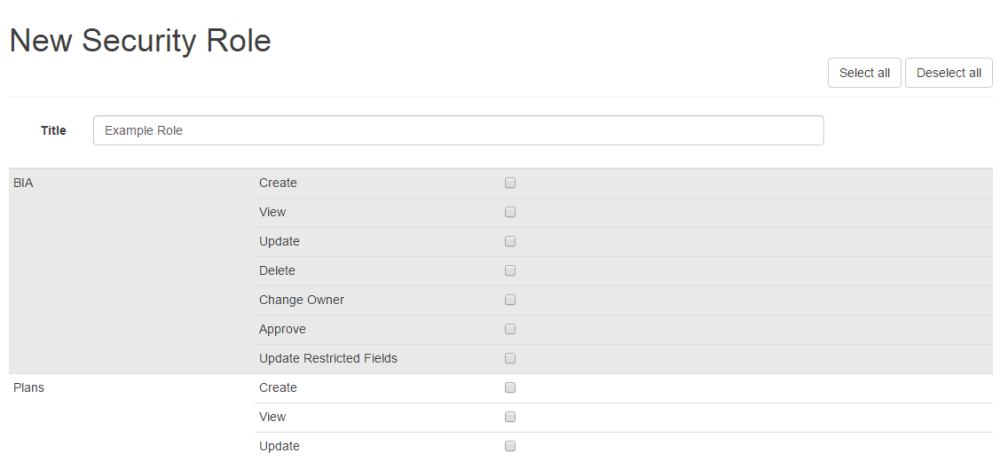 The role should include a check next to Update in the Internal Contacts section, Create, View, and Delete are not needed for the feature to work.
Inline Editing of Internal Contacts
Users with the above settings will be able to edit internal contact information through the recovery plans as long as the recovery plan has a Team and Team Contacts document section. Any names entered in the Team section under a recovery role will appear in the Team Contact section. The team contact section is where users will be able to edit information.