The Custom Roles feature allows Administrators to expand the User Roles beyond the five default roles provided. The 5 default user roles are Account Owner, BC Team, ITDR Team, Read Only and User. While these roles should suffice for the majority of the Catalyst users, some Catalyst administrators want even more options to customize security. To accommodate these customers, we've added the ability for administrators to create custom roles beyond the 5 defaults.
Managing Roles
Custom Roles are accessed from the user screen. Go to the user screen by clicking Administration -> Users. From there, you will see a blue button in the upper right hand corner for Roles. Click the Roles button.

This page will show you all of the roles that have been defined in your Catalyst site. Custom roles will be identifiable by the "X" icon to the right of the name. This icon is where you can click to delete the role. The default roles are also shown here. They are not editable and will not have an "X" icon.
Creating a New Role
To create a new role, click the New Role button in the upper right hand corner of the role page. This will bring up the New Security Role page. Here, you'll need to give the role a title, and select which permissions you would like the role to have.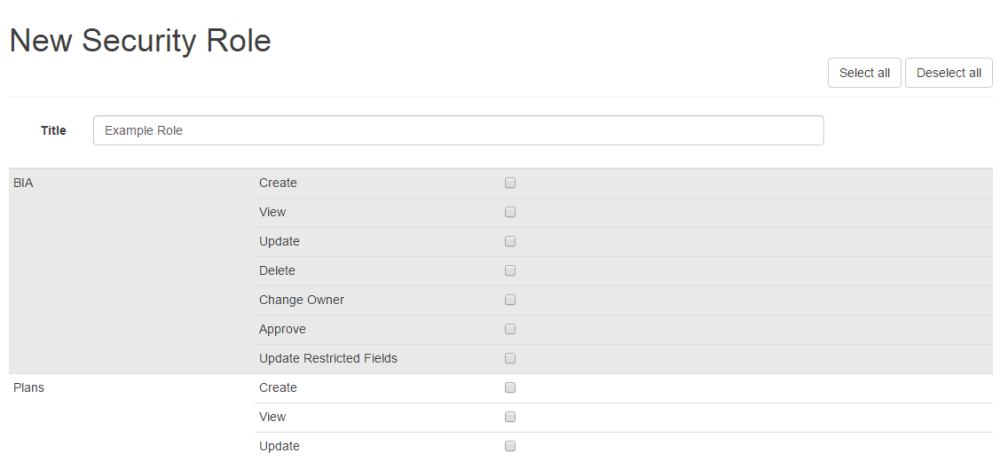 Use the Select all and Deselect all buttons for quick selection of permissions. When you're done choosing, just click Create Security Role at the bottom of the page to complete the process.
Viewing and Updating Role Permissions
To view the permissions that are set for a role, just click on the title of the role from the role page. This will bring up a column of permissions that is similar to the permissions matrix, only interactive! Click Edit at the top of the page (only available on custom roles, not on default roles) to update the permissions for a role. Checking the box grants all users assigned to the role permission to perform that action. Un-checking the box revokes those permissions. Note: these permissions will apply to users in that role as soon as you click save.
Viewing All Permissions
You can quickly view all of your permission settings by going to the security role home page (Click Administration -> Users -> Roles) and click the Security Roles Matrix button on the top right side of the page.