It's important to identify and quantify the risks in the first place, but the next logical step is to take action to mitigate these risks. In order to easily facilitate this, Catalyst has a built in Remediation Actions feature that allows users to add and track an action item to any risk.
Once one or more dependencies have been populated in the BIA, click on the Risks link on the left side navigation to be taken to the Risks page. This page displays all risks generated by the tool – those created automatically as well as those created manually.
From here, users can pick the risk they want to target for a remediation action by clicking on the risk's name. This will bring up the risk entry, as shown below.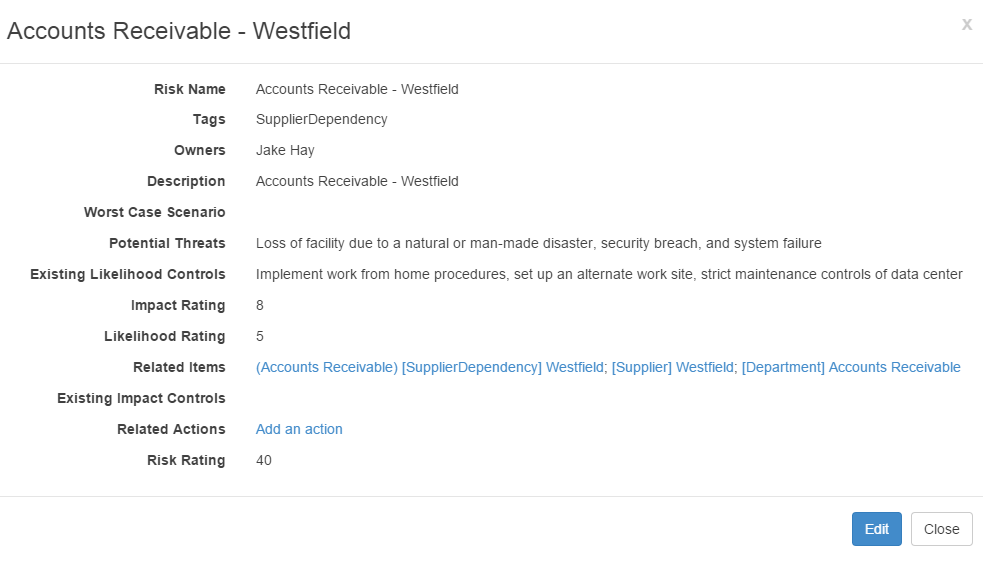 At the bottom of every risk is a field called Related Actions. Next to the field is a link to Add an action. Clicking this will enable the user to add an Action item to this specific risk. Within the New Action screen, users are able to define several key pieces of information, including: Owner (the individual responsible for the Action) and Update Frequency (a number representing, in days, how often this Action should be updated). Update Frequency will drive how often the owner is emailed for an update. Many other options are available to create comprehensive actions for your associated risks.
Once an Action is created, users can manage them from the Actions home page (via the left side navigation).