The Tag Management feature allows all the tags in a site to be managed from one place. Tag names can be merged or renamed. It's the simple way to ensure tag uniformity throughout the site.
Tags are grouped into three sections:
General Tags are used to group information in documents, business impact analyses,
risks, plans, incidents and corrective actions.
Scenario Tags are used in the task section of plans to classify how the tasks are used (e.g. loss of technology). These tags are also used by the Incident module to pull information from the task section of each activated plan to display in the "Projected Recovery Chart" in an incident.
Exercise Type Tags are the tag names for the types of exercises used in Catalyst.
Merge/Rename Tags
Navigate to Administration => Tag Management
On the tag management page, select the Tag group from the drop down

A new page will open displaying all the tags in that group
Use the check boxes to select multiple tags then select the Merge/Rename button
Here you can either merge the name for all the tags to an existing tag name, or replace it with a completely different name.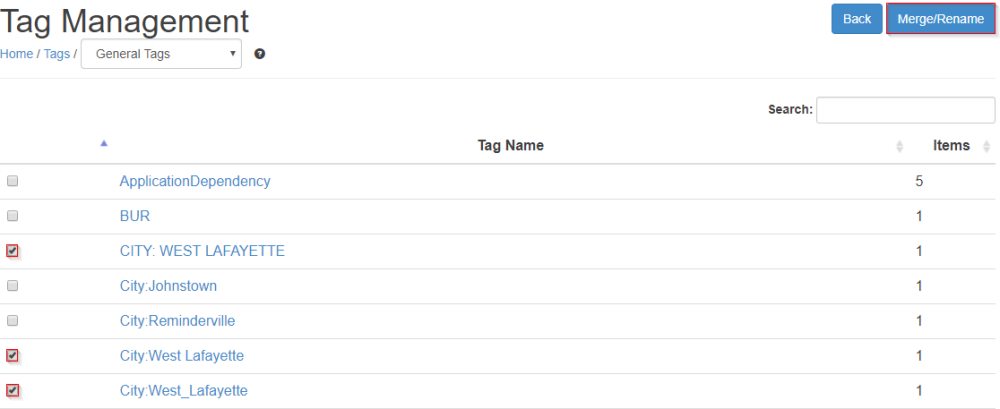 Merge

Rename

Tag Properties
The Tag Properties screen provides a quick way to see everywhere a tag is being used. By clicking a tag name you will open the Tag Properties screen. The top of the Tag Properties screen displays the total number of items with that tag. All the items and item types with the selected tag are displayed below the Tag Name and Item types to quickly know which areas of the site the item is located in, e.g. Risk, Document or, Exercise Requirement. Clicking the Item Name will open the page for that item.