Reporting for Catalyst is broken down into three areas:
Insights Reporting
This module is a top-level approach to visually reviewing your business continuity program. It includes risk charts and reports, program assessment, capability, change management, and administrative reporting reporting, and compliance reporting for organizations using Control+Comply. 
Raw Data Exports
Catalyst's data exports allow you to access all the information in Catalyst in spreadsheet format, allowing the development of custom reports based on the Excel data. Learn more about the export process.
Formatted Reports ("Documents")
Formatted reports are kept in the "Documents" module, on the left navigation in Catalyst: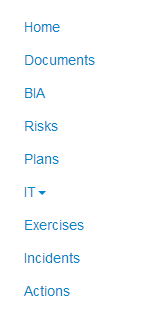 Documents work similar to MS Word documents, but benefit from Catalyst's security, workflows and version control the way a Plan would. Documents can also pull in information from all around Catalyst to generate summary reports.