Policies
Catalyst includes a Business Continuity Policy Template that can be tailored to your organization's needs. Follow the steps below to use this template:
Go to the Documents module on the left navigation
Choose "New Document" from the top right corner
In the Template dropdown, choose "Business Continuity Policy"
Fill in the remaining fields as appropriate based on the instructions for the field
Choose Save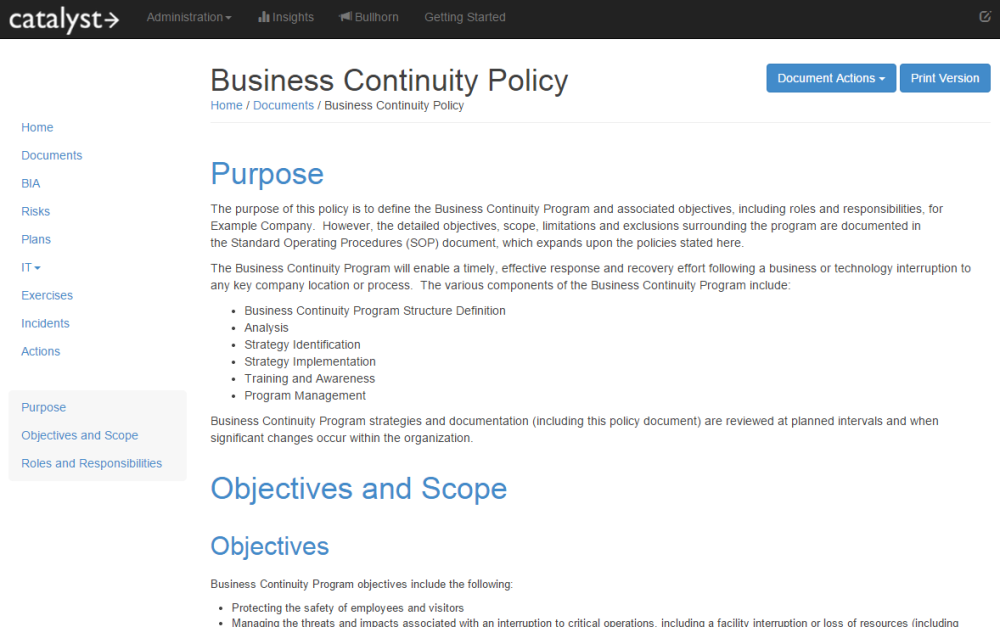 To Learn more about Business Continuity Policies, see our blog: Do you need a policy statement?
Standard Operating Procedures
Standard Operating Procedures allow a Business Continuity Team to document how they execute each part of their program to enable repeatability as team members change. These procedures can easily be documented in Catalyst Documents, which has three key benefits over documenting SOPs in MS Word: security, version control and workflows.
To create an SOP in Catalyst:
Go to the Documents module on the left navigation
Choose "New Document" from the top right corner
Enter the name of your

SOP

Fill in the remaining fields as appropriate based on the instructions for the field
Choose Save
This is create a new blank document: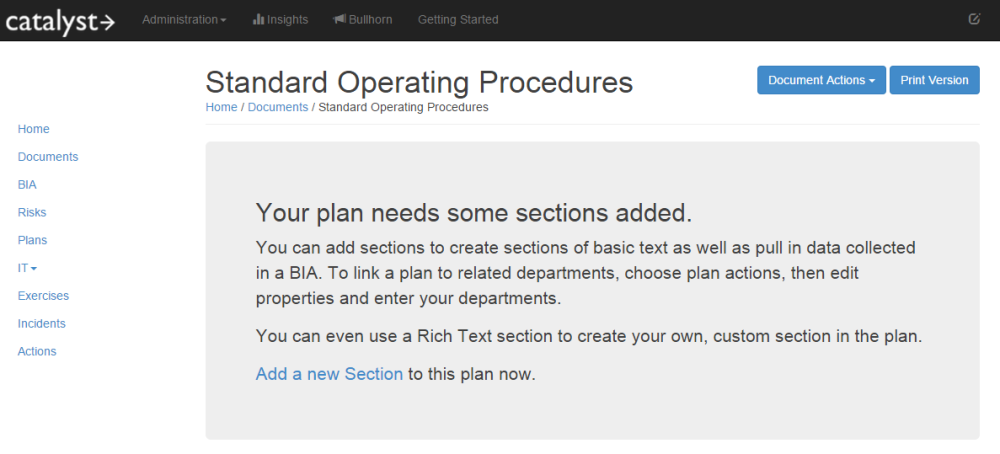 From here, you can add new sections to address each part of your business continuity program. To add additional sections:
Click "Add a new section"
Choose the "Rich Text" section (this section works just like a word document – you type in the content you want (or copy/paste)
Enter a name for the section and it's initial content
Click "Ok" and the section will be added to your document
You can also rearrange your sections:
In the top right of the screen, click "Document Actions"
Then click "Edit Structure"
Now you can drag and drop the individual sections of your document and even create multiple levels via the tree on the page
Click "Close the Tree" to return to your document
Common SOP sections include:
Governance / Steering Committee
Document Control
Business Impact Analysis Process
Recovery Strategy Development Process
Plan Development Process
Exercise Requirements and Process
Continual Improvement
Training and Awareness